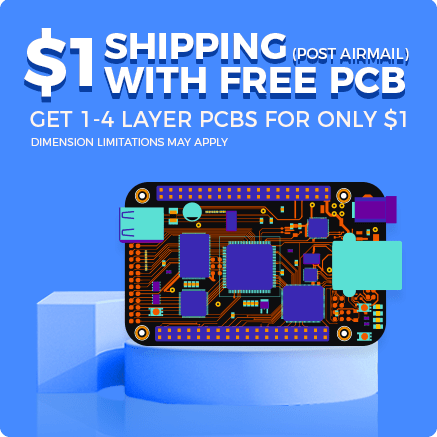 Every once in a while, we get an opportunity to take advantage of an exceptional deal. Recently, the friendly people at PCBPartner.com reached out to me with another great deal… "Get your next PCB for only $1!"

You will get the following:
10 FR-4 PCB, 1 or 2 layers, with Green Soldermask, in dimensions not exceeding 100mmx100mm, Manufactured and delivered to your door for only 1 (one) $USD.
This promotion will be valid until 31 May 2022, with AIRMAIL shipping included.



PCBPartner.com is owned and operated by Kinji Group, established in 1997. We have over 20 years of experience in PCB manufacturing, PCB design, component manufacturing and distribution, PCB assembly and PCB CAD software development.

While Kinji Group has 3 PCB factories in China, we have also developed strategic partnerships with more than 15 other factories around Asia. We, therefore, have a large group of specialists in PCB manufacturing, quality control, technical support and part sourcing to support your innovative ideas and products.

Our over 500 employees are spread across 8 branches in Mainland China (Shenzhen, Dongguan, Shanghai, Wuxi, Chengdu, Xiamen), Hong Kong SAR, and Taiwan. And we're still growing!
Why Should you use PCBPartner for your next PCB order?

Variety of PCB Material
Up to 54 layers during PCB manufacturing.
FR-4 with different tg (135,150,170),
CTI 600 (Halogen free) PCB material,
Aluminium base PCB,
Flexible PCB,
Rigid-Flexible PCB,
Rogers, and many more materials.
Whatever material you need, they can deliver.

Special PCB Specifications:
Regular PCB production for these special PCB specifications
● Impedance control
● Custom-layer stack up
● 1-3 oz copper thickness for outer/inner layers
● Hard gold, ENEPIG, OSP surface finish
● Two different solder mask colours on one PCB
● Edge connector plating
● Edge plating
● Via filled with aluminium/resin
● And more…

Fast Lead Time
Turnaround is quick as prototypes usually take as little as 24 hours to produce, with a direct pickup service from their warehouse. They partner with DHL and FedEx for this to make sure you get your PCB in the shortest time possible. They also offer express production options for small and medium-sized batches so that you get your boards EVEN quicker.

Competitive Pricing
Get competitive pricing on prototypes and your future mass production. For any mass production orders, contact them so that they can find the best pricing and shipping solutions to maintain your competitiveness
Ordering boards in bulk? Save more the larger your order:
US$10 off orders of 100+
US$10 off orders of 100+
US$50 off orders of 500+
US$120 off orders of 1000+

Quality Control
After 20 years, they have built a strict standard of quality – their quality control teams ensure all PCBs pass the AOI and E-test with 100%.

Technical Support
They have an experienced PCB manufacturing and engineering team to help you detect potential mistakes in your Gerber files. They also use – and have used for 15+ years – a reliable PCB testing software solution, iPCB, to detect mistakes in designs.

Excellent Customer Service Team
They have a passionate (and patient!) customer service team to help you solve any problems while ordering, handle engineering questions, or answer any after-sales service request. They will respond to you within 1 working day, that's their customer service guarantee.

Flexible Payment Term
If you have a large amount of PCB to order every month and want to work with them for AMS 30 payment, they will be happy to sign an agreement with you.