Welcome to our Digital Downloads Page. On this page, you will find some pre-designed PCB manufacturing files for download. There will be Free as well as Paid Downloads available. Payments can be made by clicking on the payment button. Your download will be made available after payment has been processed.
4 Channel IoT Relay controller
This PCB is designed around NodeMCU v.3 It can be used as an IoT device controller.
The download contains the circuit diagrams in PDF format, the complete bill of materials, listing all components needed to manufacture, as well as the Gerber Fabrication files needed for manufacturing.

This is a PAID download. The cost is US$ 10 per download.

[paypal_for_digital_goods name="4 Channel IoT Relay Controller PCB Manufacturing Files" price="10″ url="https://www.makeriot2020.com/wp-content/uploads/2020/08/IOT-Smartplug.zip"]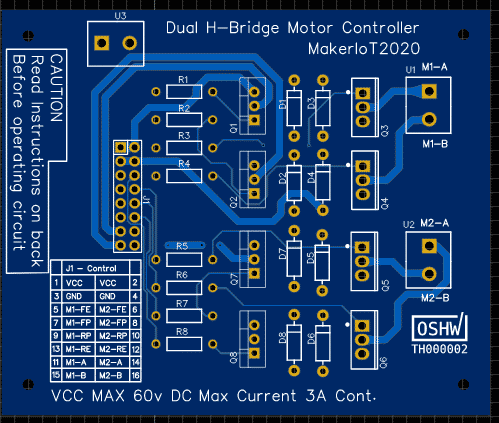 Custom H-Bridge Motor Controller
This is a Custom H-Bridge motor controller, capable of driving two(2) DC Motors, or one (1) bipolar stepper motor. This PCB is OSHWA Certified, as open-source hardware.

This is a FREE Download, it is available here